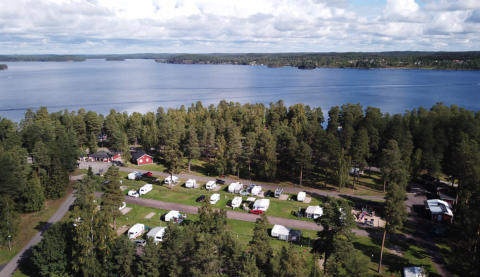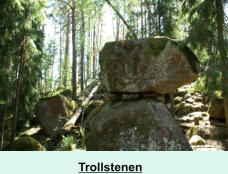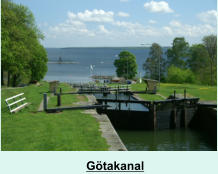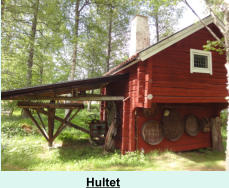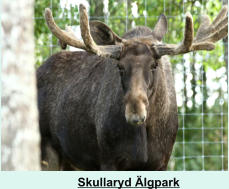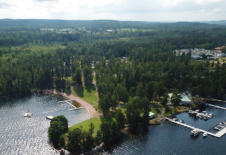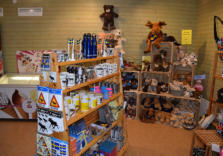 In the surroundings of Tranås you will find nice points of
interest and several posibilities for hiking and cycling. In the
reception are several maps and brochures available, but we
already like to give you some ideas now:
Cycling routes:
It is easy to, via a separate cycle lane, cycle to the sheerful
town Tranås (3km). You don't have a bike yourself?
Rent a bike in the reception! This is possible from May till
September. Please note the landskape is slanted, so it can
be tough to cycle in these surroundings.
•
In and around Tranås: several routes like the Trollstone
route and Gripenberg route.
•
Illerns naturreserve - Especially great with a
mountainbike! -
•
The isle Torpön
•
Ydre Commune, south of Tranås: here you'll find
several routes, from 33 to 111 km. Click here for more
info.
•
The isle Visingsö
•
Göta Canal
Hiking routes:
•
Almåsberget:
hiking trail of 5 km from the campsite,
along the lake Sommen to a viewpoint and back via
the woods.
•
Säteri round
(6 km): easy walk from the campsite
through the woods, till ex. to take a walk with the dog.
•
Illern nature reserve:
Several marked trails in the
woods with a nice small lake. Click here for the map.
•
Romanäs nature reserve:
about 7 km from Tranås
centre you can take a nice walk along the
lake Sommen .
•
Trollstone:
a short, but nice trail, 4 km north from
Tranås which is great to do with kids! The Trollstone is
a big stone which lies on 3 small stones. How is this
possible? You can read about it during your walk on
the information signs. This information is given for
adults as well as for children.
•
Torpön:
This is the biggest isle in the Sommen lake
with lots of opportunities for hiking. On several places
you have a fantastic view over the Sommen lake!
•
Seloberg:

There are 2 magnificant canyons of 800 and
700 meter long, called Skams gator. Via a hiking trail
it's possible to walk 400 meter through the biggest
canyon. Exciting adventure for both kids and adults!
Click here for a map.
•
Skurugata
- Eksjö: a nice hiking trail through a
spectacular canyon which is nice to do with kids (not
too young!).
At the end of the trail is a viewpoint. Make sure you'll
have good hiking shoes, because you'll have clamber
sometimes! Click here

for the map.
By the way, did you know how many caches you can find
in the neighbourhood? For those who don't know
anything about geocaching: this is a modern way of
treasure hunting which is getting more and more popular
all over the world. Download the app in your smartphone
and discover a new, fun way to be active and moreover
discover the most beautiful places! Fun for adults as well
as for childeren! We will be happy to tell you all about it.
More information can also be found at
www.geoaching.com.
Daytrips and points of interest:
Tranås:
Tranås centre is about 3km from the campsite. This village
has a sheerful shoppingstreet which is 2 km long! Here
you'll find nice shops, boutiques and restaurants. Moreover
has Tranås 5 supermarkets!
Make a visit to nature reserve Ekbergsparken or take a
walk along the Svartån river in the Östanåpark. Here you'll
even find a newly constructed frisbee golf course and a new
outdoor gym in natural material. The Tranås Wake Park is
located at the town hall / Svartån river. For opening hours:
see their facebooksite.
Hultet:
For everyone who likes to get in contact with som Swedish
history, Hultet is definitely worth visiting! Hultet is a small
outdoor museum, 6 km north of Tranås. The location along
the Sommen lake is beautiful! You can take a look in the
cosy houses from the 18th and 19th century. You will
definitely love their personal stories!
Open: June 1st - August 31st, Tuesday/Thursday/Saturday,
14:00 hours. Guided tours only (2 hours).
Säby Church:
This church is located 6 km south of Tranås and is 1 of the
most beautiful medieval churches in the province.
Open: June 1st - August 31st, Monday till Friday, 7:00 -
16:30 hours.
Torpön:
The Sommen lake is known as one of the most beautiful
lakes of Sweden with immeasurable amount of isles. They
say there are 365 isles, 1 isle for each day of the year! The
biggest isle is Torpön and is abolutely worth visiting. On the
north side you'll find a restaurant, a high ropes course and
"Naturum". More information you'll find on
www.torponsfarjelage.se.
Gränna:
This small town along the Vättern lake is primarily known of
the red/white stick candy (polkagrisar). But Gränna has
more to offer! Take a visit to Grännabergets
outdoormuseum, where you even can enjoy a spectaculair
view over the Vättern lake and Visingsö, while eating a nice
sandwhich or ice cream!
South of Gränna lies Röttle by. This idyllic place has 2 mills,
a waterfall and a small harbour. In the summer you can
watch how they grind flower in the "Rasmus" mill.
Furthermore the Visingsö isle is worth visiting as well. The
ferry between Gränna and Visingsö goes regularly and the
crossing takes about 25 minutes.
More information you'll find here.
Eksjö:
This town is known for the nice wooden houses. Eksjö is
located 45 km south of Tranås.
10 km north of Eksjö, along road 32, you'll find Skullaryd
moose park. Great moose safari for both childern and
adults!
On and around the campsite:
In addition to a large number of brochures, we also offer
other products and services at the reception, such as
souvenirs, food, ice cream, candy, fishing equipment, fishing
license and bicycle rental. In high season you can also buy
products such as milk, cheese and butter. Then you can
even order fresh rolls for the next morning (not on Sundays).
On the campsite we offer spacious pitches (100 m2). We
even rent out 14 cabins, both with and without shower/toilet.
Dogs are welcome but have to be on a leash. Wifi is
available (against payment) and works properly on the whole
campsite. You can buy a code in the reception.
On the campsite you'll find a football field, table tennis table
and a playground. Just outside the campsite is a lovely
beach with large lawns for sunbathing. Here you will also
find a jumping tower and a separate bathing area for the little
ones.
In this area restaurant Sjökrogen is located as well. Here
you can take a drink or a nice meal while enjoying the
magnificant view over the lake!
If you'd like to rent a boat you can do this at Petrus Kajak.
He rents out kayaks, Canoes, motor boats and small sailing
boats. In his little shop you can buy amongst other things
boat equipment and lakemaps and rent lifejackets. Don't
hesitate to ask him about the most wonderful spots on the
lake! He knows them all!!
Do you want to bring your own boat? With us at the Hätte
Camping you have the possibility to rent a boat pitch as we
have a limited number of boat pitches available. In tha
harbour of Tranås you can put your boat into the water
yourself via a boat ramp. Please contact us for more
information!
Our goal is that our guests can look back on a well-
deserved and wonderful holiday.
We're happy to help you with more tips and ideas.
Hope to welcome you soon!